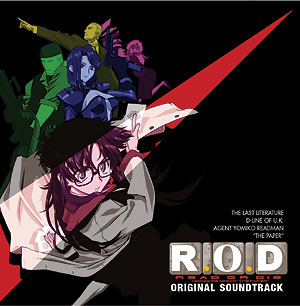 Music by Taku Iwasaki
Track Listing
Edit
In the beginning, roars the electric genius
Theme of R.O.D ~ opening version ~
Those who insanely love books say, "Paper is always with us"
At a bookstore - run silent, run deep
Shudder! Shudder! More shudder!
Gentleman-like, all too gentlemanly
Theme of Stardust hidden in the interval of time
The evil wing of gale, that no one can catch
Unequaled boisterous dance, the sky is too small
A man playing in the west raises a pole at will
Suite for an I-Jin
Bring all the wisdom to Great Britain!
Theme of R.O.D ~ long version ~
Souls of the women rest for a moment, and thereafter...
External Links
Edit
Ad blocker interference detected!
Wikia is a free-to-use site that makes money from advertising. We have a modified experience for viewers using ad blockers

Wikia is not accessible if you've made further modifications. Remove the custom ad blocker rule(s) and the page will load as expected.