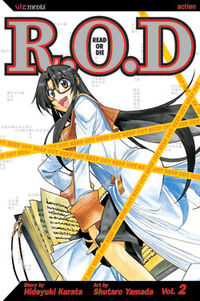 Yomiko's shopping trip to the London Book Fair is cut short by a mysterious message she receives from Donny Nakajima, her former boyfriend and the papermaster who preceded her.
Then, her next assignment takes her to the Manshu Academy to find an underground library that contains the ancient wisdom of Chinese masters. But strange things are afoot! Can Yomiko find the hidden library and fulfill her mission? And are commander Joseph Carpenter's intentions not what they seem?
Story by Hideyuki Kurata and Art by Shutaro Yamada.
Episodes: 9 - 15
Episode: 16: Bonus Chapter
Postscript
Release Information
Edit
Japan: June 2001
United States

Release Date: 16 May 2006
Page Count: 208