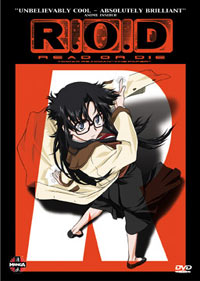 Read or Die OVA is a 3 episode spin-off of the original manga. It was released in 2001 by Manga Entertainment. The plot focuses on Yomiko Readman (codename The Paper) and her fellow agents, Nancy Makuhari, and Drake Anderson, as they attempt to recover a book stolen by the mysterious I-Jin. The story is continued in R.O.D the TV, the 26 episode televison series, released in the US by Geneon.
Read or Die was produced and released in Japan in early 2001; as a result, the aerial chase scene in Episode one still depicts the World Trade Center twin towers standing. (The heroes are forced onto the roof of one tower, ditching their helicopter down below.)
Ad blocker interference detected!
Wikia is a free-to-use site that makes money from advertising. We have a modified experience for viewers using ad blockers

Wikia is not accessible if you've made further modifications. Remove the custom ad blocker rule(s) and the page will load as expected.