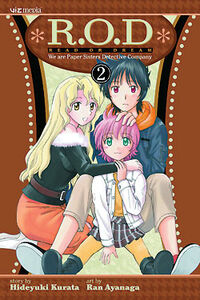 While her big sisters are out of town, Anita has the detective agency all to herself - and it doesn't take her long to get into trouble. Soon she's embroiled in a plan to retrieve a unique journal, the Clock Diary, from the criminal underworld. But the beautiful, devious book thief Lily the Reader Extraordinaire will stop at nothing to steal the diary for herself. Can the youngest Paper Sister crack the agency's most dangerous case alone? Or has time run out for the Clock Diary and Anita?
Story by Hideyuki Kurata and Art by Ran Ayanaga.
The Clock Strikes
In Japan, the manga had the title "Shin (New) Read or Die".
Release Information
Edit
Japan

Release Date: 19 March 2004
Serialized in: Ultra Jump
Published by: Shueisha

United States

Release Date: 9 January 2007
Page Count: 200
Published by: Viz Media
Extended Synopsis
Edit
Chapter 8
Edit
Chapter 9
Edit
Chapter 10
Edit
Chapter 11
Edit
Chapter 12
Edit
Chapter 13
Edit
Chapter 14
Edit
Chapter 15
Edit
Bonus Story
Edit
Ad blocker interference detected!
Wikia is a free-to-use site that makes money from advertising. We have a modified experience for viewers using ad blockers

Wikia is not accessible if you've made further modifications. Remove the custom ad blocker rule(s) and the page will load as expected.